If you enjoy parties and have a keen eye for detail, starting a party rental business can be a nice side hustle to help you make money in your spare time.
However, this side hustle is anything but passive. It requires meticulous preparation and execution – aka lots of time. This is an ideal side hustle for you if you have some spare time at the weekends or evenings that you would like to trade for some spare cash.
If the description fits you, then read on. The rest of this article will cover all that you need to launch a profitable party rental business. We'll cover all the essentials, including how party rental businesses make money, how to conduct market research, researching competitors, identifying your target market, and creating a business strategy. Additionally, we will delve into different types of party rental businesses and provide valuable tips to set up your operations effectively.
How Much Can You Make from a Party Rental Business?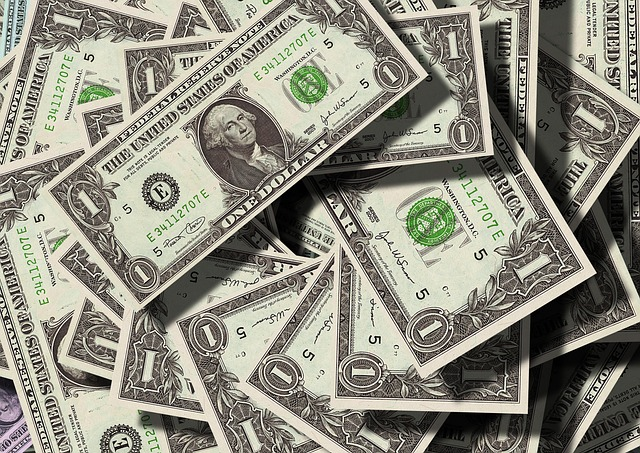 The primary source of income for a party rental business comes from renting out your event fixtures for events like weddings, birthday parties, corporate events, etc.
The profit potential of a party rental business largely depends on factors like your business model, market demand, competition, pricing, and how well you run your operations. Like any business, the most important financial factor for running a successful party rental business is the difference between how much you can charge for your assets and how little it costs you to acquire and maintain them.
It's also important to note that the party supply rental industry can be demand-driven, enabling you to generate substantial profits, especially during peak event seasons. On the downside, this also means making provisions for lower-demand seasons.
Types of Party Rental Businesses to Start
Party rental businesses are a sub-niche of the event rental business model. This business model encompasses a wide range of services, each catering to specific event needs and customer preferences. This also means that there are a variety of ways to achieve party rental business success.
Let's explore some of the most common types:
1. Inflatables Rental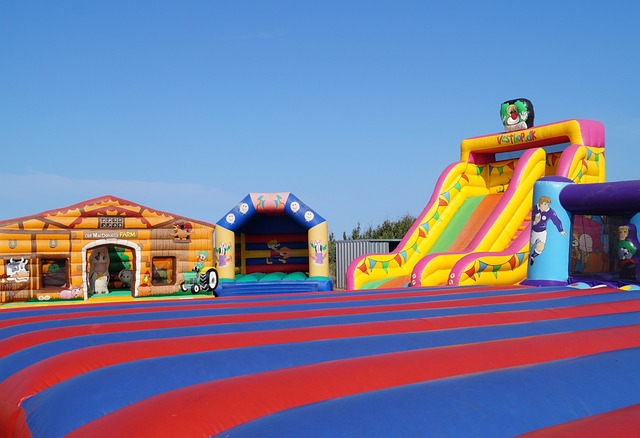 Here, you specialize in providing inflatable structures like bounce houses, slides, and obstacle courses. They are popular choices for children's parties, carnivals, and outdoor events, offering fun and interactive entertainment options.
This niche makes financial sense for small businesses looking to service their localities. For instance, a modest bounce house costs around $2 – $4k to purchase, and rental income is approximately $300 for 8 hours. If the inflatable is booked just one day each week, it would take roughly only 6 weeks to break even. But it's obvious that it's not that simple. To operate successfully like Clown Around Party Rental for instance, there's also the cost of insurance, delivery, set up etc.
2. Production, Audiovisual and Lighting Equipment Rental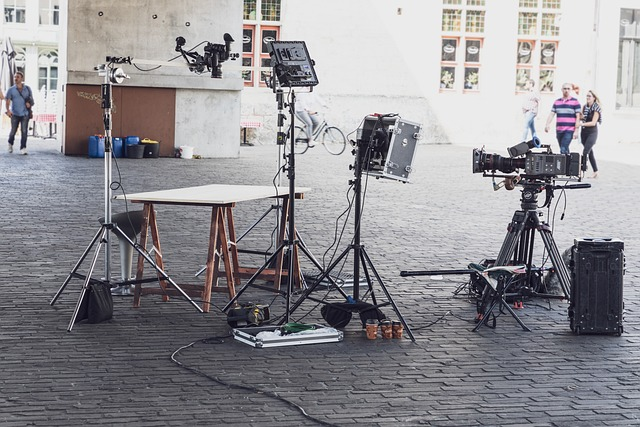 You can offer rental production equipment like lighting, audiovisual equipment, rigging equipment, lifts, etc. These are usually popular with corporate event organizers, such as conferences, trade shows, exhibitions, etc., or events requiring high-quality audiovisual presentations and an immersive experience for attendees.
Businesses in this space tend to offer a variety of items within singular verticals – for example, multiple types of lighting to suit various event types, various battery pack types, etc. An example of an equipment rental business like this is Borrowlenses.com.
3. Wedding and Special Occasion Rentals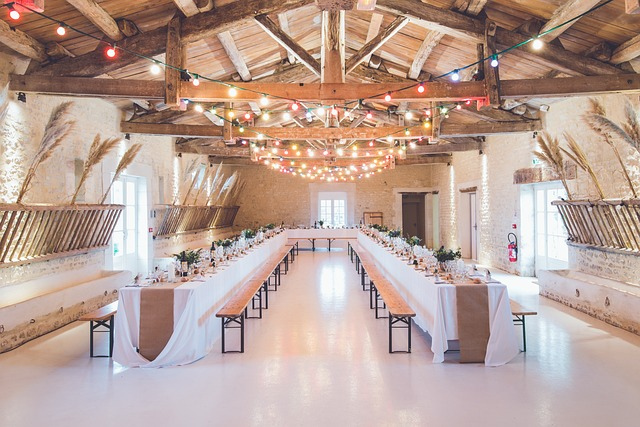 These rental services focus on providing elegant and customized items for weddings and milestone celebrations. Some items you could offer for rental within this space include exquisite table linens, wall flowers, chair covers, centerpieces, arches, drapery, and other decorative items that enhance the ambiance and create a romantic atmosphere for special moments. And you can niche down on this as much as you want, choosing to offer just one niche product if you want.
For example, sites like Wallblooms.ca and WeddingFlowersforRent.com offers premium wall flower rental service to local event planners in Canada. Especially in the era of social media and event attendees seeking the perfect "Instagrammable" moment, it's easy to see how a business like this could appeal to potential customers. Each wall flower costs approximately $2000 to buy and $200 – up to $800 to rent.
4. Tent and Canopy Rentals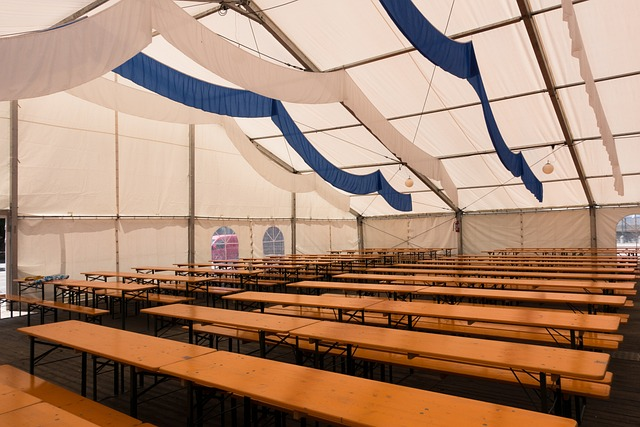 With this business model, you provide temporary shelter solutions for outdoor events. Typically, you offer a range of tent styles and sizes to suit various event sizes. If you're looking to start your own party rental business, you could offer these as standalone items or additional accessories like flooring, lighting, heating/cooling systems, and sidewalls. These items cater to outdoor event types across the entire spectrum of party rentals – weddings, festivals, fairs, corporate picnics, and other outdoor gatherings.
The typical 20 x 30 canopy is large enough to fit ten tables and costs approximately $300 – $400 to rent. To stand out from the crowd, you could bundle this with delivery, set up, and collection services as part of a premium, headache-free package.
5. Furniture Rentals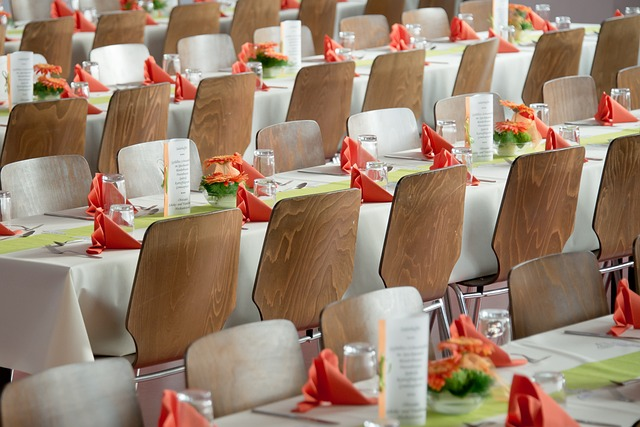 These rental companies supply a variety of furniture, such as tables, chairs, sofas, bars, and lounge seating, as well as decorative items like linens, tableware, centerpieces, and props. They serve both indoor and outdoor events, allowing hosts to create the specific ambiance and style that complements their vision.
New business owners could niche down by offering budget chairs, tables, linen, and other furniture that larger companies may be reluctant to supply – for rent. For example, Pinatas La Fiesta specializes in kids' birthday party furniture rentals, offering basic tables for as little as $10 and upselling popcorn machine rentals for $75 a pop.
By understanding your target market, you can choose a niche that serves their needs and aligns with your expertise. Whether you focus on inflatables for children's parties or exquisite wedding fixtures, each business venture offers unique earning opportunities through upselling and satisfied customer referrals.
Now you have figured out what type of party rental company you would like to start, it's time to think about how to sell your services. But before selling your services, you'll need to figure out who your customers are. This is where market research comes in.
Conduct Market Research and Identify Competitors
Before diving into the party rental industry, you will need to analyze the market for existing party rental services in your target area. This will help you learn about the potential customers, products, costs that are viable in your target market. You might identify market inefficiencies with the use of this analysis, and you can also decide how to best position your company.
You can attract a steady stream of customers by offering a wide range of high-quality products, exceptional customer service, and competitive pricing. While profitability varies, it is common for party rental businesses to generate substantial profits, especially during peak event seasons.
How Much Does It Cost to Start a Party Rental Business?
The cost of starting a party rental business can vary depending on factors such as location, equipment selection, and business size. On average, you should expect to invest between $10,000 and $50,000. This investment covers initial equipment purchases, insurance, marketing expenses, licenses, permits, and rental space, if applicable. Carefully plan your budget to ensure you have enough capital to meet these requirements and sustain your business until it becomes profitable.
Determining Your Products/Services And Identifying Your Target Market
You should decide on the types of party rental services or products you will offer. This could include inflatable bounce houses, tables and chairs, linens, tents, lighting, sound systems, decorations, party games, and much more. Assess the demand for these items in your target market and consider diversifying your offerings based on popular trends and customer preferences.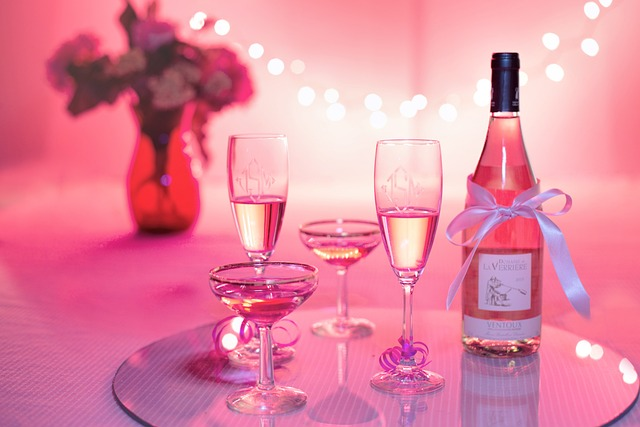 Also, understanding your target market is crucial for tailoring your services to meet their needs. Consider factors such as demographics, income levels, and local events. Target customers could include individuals hosting personal celebrations like birthdays and weddings, as well as corporate clients planning conferences, trade shows, and team-building events. Identify your niche and develop marketing strategies to effectively reach and engage your target audience.
Start a Party Rental Business by Following These Important Steps
Write Your Business Plan
To organize your ideas, establish definite goals, and obtain funding, you must create a thorough business plan. Your business plan should have an executive summary, company description, market analysis, product/service offers, marketing strategies, operational structure, financial predictions, and contingency plans. This document will act as a road map for your company and keep you focused on your objectives.
Establishing a Legal Entity for Your Business
To protect your personal assets and ensure legal compliance, establish a legal entity for your party rental business. Options include forming a limited liability company (LLC) or a corporation. Consult with a legal professional or a business advisor to determine the most suitable structure for your specific needs.
Choose the Right Rental Equipment for Your Party Rental Company
Select high-quality and popular rental items that align with your target market's preferences. Consider investing in versatile items that can be used for various events to maximize your rental potential.
Register for Business Licenses and Permits
Research and obtain the necessary licenses and permits required to operate a party rental business in your area. This may include a general business license, sales tax permits, and any specific permits related to the rental industry.
Set Up a Business Bank Account
Separate your personal and business finances by opening a dedicated business bank account. This will help you track income and expenses accurately and simplify tax reporting.
Get a Business Credit Card
Having a business credit card can streamline your financial transactions and build credit history for your business. It also provides a convenient way to track and manage business-related expenses.
Small Business Taxes
Consult with an accountant or tax professional to understand your tax obligations as a party rental business owner. Familiarize yourself with sales tax requirements, income tax regulations, and any applicable deductions or exemptions.
Get Your Marketing Plan in Place
Develop a marketing strategy to promote your party rental business. Utilize both online and offline channels such as social media, search engine optimization, local advertising, partnerships with event planners, and word-of-mouth referrals.
Choose Where to Register Your Company
Decide whether to register your party rental business as a home-based business, lease a commercial space, or operate as an online rental service. Consider factors such as costs, convenience, storage space, and local zoning regulations.
Choose Your Business Structure
Decide on the organizational structure that best suits your party rental business. Common options include a sole proprietorship, partnership, LLC, or corporation. Each has different legal and financial implications, so seek professional advice to make an informed decision.
Party Rental Business Insurance
Having the right insurance coverage can shield your company from risks and liabilities. This could include general liability insurance, property insurance for your rental goods, and business interruption insurance.
Open a Business Bank Account
To handle your company transactions, open a separate bank account. Your funds will be easier to handle and your records will be more accurate going forward for tax purposes thanks to this split.
Event Planning and Production Companies
Consider collaborating with event planning and production companies to expand your network and reach a broader audience. These partnerships can lead to mutually beneficial referrals and cross-promotion opportunities.
Keep Track of Customers, Orders, and Due Dates
Implement a reliable system to track customer orders, payment schedules, and delivery/pick-up dates. Use technology such as customer relationship management (CRM) software or online booking platforms to streamline operations and ensure smooth event execution.
Set Up Business Accounting
Maintain accurate financial records by using accounting software or hiring a professional bookkeeper. Regularly review your income, expenses, and profit margins to make informed business decisions and identify areas for improvement.
Social Media Marketing
Harness the power of social media platforms to showcase your rental inventory, share event inspiration, and engage with your target audience. Create visually appealing content, run targeted ads, and encourage customers to leave reviews and testimonials.
What Makes a Great Website?
Invest in a user-friendly and visually appealing website that showcases your rental offerings, provides detailed product descriptions and pricing, and allows customers to make online reservations. Optimize your website for search engines to increase your online visibility.
Build a Strong Customer Care Team
Ensure excellent customer service by hiring and training a competent customer care team. Promptly respond to customer inquiries, provide assistance with rentals, and handle any concerns or issues that may arise. Delivering exceptional service will help build a positive reputation and encourage repeat business.
Set Up Your Business Phone System
Establish a professional phone system to handle incoming calls from customers and business inquiries. Consider features such as call forwarding, voicemail, and an automated menu system to enhance communication efficiency.

In conclusion, starting a party rental business requires careful planning and attention to detail. By conducting market research, identifying competitors, determining your target market, and writing a comprehensive business plan, you can set a strong foundation for your venture. Additionally, understanding the different types of party rental businesses and following the ten steps outlined in this article, such as choosing the right rental equipment, registering for licenses and permits, setting up a business bank account, and implementing effective marketing strategies, will contribute to the success of your party rental business. With proper execution, dedication, and a focus on delivering excellent customer service, your party rental business has the potential to thrive in the vibrant and exciting event industry.